Review: Apologia Exploring Creation with Astronomy
We LOVE Apologia Educational Ministries at this house, so I was so thrilled to have the opportunity to review their Exploring Creation with Astronomy course.    We have reviewed both their Field Trip Journal and their Writers in Residence program before and have really liked them, so we had high expectations for this product too.   Apologia did not disappoint!
Apologia sent us materials for their Exploring Creation with Astronomy, 2nd Edition, which included the following materials:
* Student Text
* Notebooking Journal
* Jr. Notebooking Journal
* Audio CD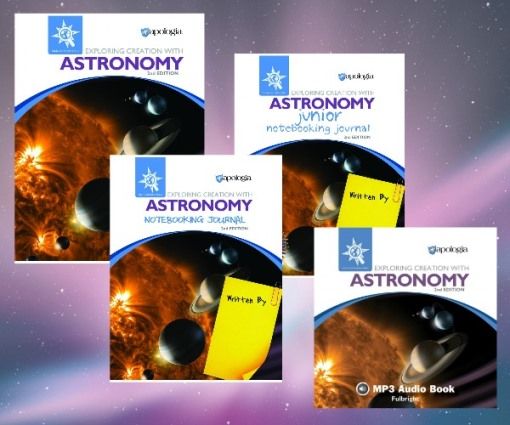 The student text is a very nice, full color, hardcover book.  It reminds me of a textbook, but it's very readable.  My 4th grader didn't have any trouble reading or comprehending the material.    You can download samples of the material from the Apologia website, so you can evaluate it for your students.  It's full of beautiful images, and broken down in chapter headings.  This breakdown makes it easy to assign particular parts to the kids to read.   The student text also includes activities for the kids to do, including things like creating a mnemonic to remember the names of the planets, building a model solar system with balloons, and even giving a speech!  I love the variety!  We're learning about astronomy and developing all sorts of skills.
The Notebooking and Jr. Notebooking Journal are high quality, full color, spiral bound books.   They are full of pictures, activities, copywork, and places to journal (ie take notes!!) on material from the Student Text.   There are approximately 15 pages of activities per chapter.  It's not just writing either – there are fun cut-out-and-glue activities too, to help those kinesthetic learners.
The two versions of the notebook are very similar.  The Jr. version replaces some of the writing pages with coloring options instead.  They also offer some extra assists on activities like crossword puzzles.
The audio cd is a brilliant idea!!   It is essentially a reading of the textbook.   Some of the sentences are modified for readability, but most of them are the same as the textbook.  I LOVE that the kids can listen to the audiobook and follow along in the textbook.   Jeannie Fulbright, the author of the textbook, reads on the audio cd, and she has a very pleasing voice. 🙂    The mp3 chapters are broken down into subject headings, so it's easy to skip to where you left off.   Note: this cd will not play in a regular cd player, but needs a computer or a cd player that will play mp3's.
There are 14 chapters, and the course is designed to last for a year.   A suggested schedule is included in the Notebooking Journals, and breaks the material down into daily assignments.   These can of course be adjusted for your family's needs.
We also love that this course is designed to present material from a Christian perspective.  Ms. Fulbright begins the entire course by explaining that we study the universe to learn more about WHO designed it. 🙂   She also includes Scripture verses all throughout the text.
Two thumbs up for this Apologia course!
You can connect with Apologia via social media:
Facebook: https://facebook.com/apologiaworld
Twitter: https://www.twitter.com/apologiaworld @apologiaworld
Pinterest  https://www.pinterest.com/apologia/
Instagram:  https://www.instagram.com/apologiaworld/