Review: Christian Homeschool Hub Download Club
As homeschoolers, access to printable worksheets on a wide variety of topics can be VERY helpful. I used to spend 10-15 minutes searching the web for a particular worksheet that I would like to use. Then, when I finally found one that I thought would work, it remained to be seen if it was in a form that I could actually download and use!!
We were happy to give CHSH-Teach.com a try, as members of the CHSH Download Club.  We were given a year's access to over 50,000 full color downloadable pages, and they add more all the time!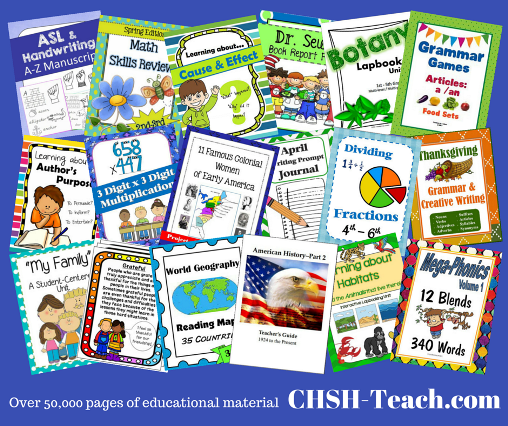 The Christian Homeschool Hub (fun name!) has literally thousands of choices, and they are VERY well organized!  The site is broken down both by subject and by grade level.
Subjects include:
* Bible Related Resources like Bible verse memorization, flashcards, notebooking, copywork, missionary studies, and even sermon notes for kids
* Languages including Spanish, French, Italian, and American Sign Language (ASL)
* Arts, Music, & Crafts including art and music instruction as well as knitting, quilting, carpentry, and more!
* Language Arts
* Math
* Science
* Social Studies
* Electives like architecture, character studies, Jewish/Israel history, and social issues
* Health including both general and dental, as well as by body system (like respiratory, skeletal, auditory, brain/nervous system, etc)
For grade levels, they offer materials for preschool/kindergarten all the way through high school.  At least for the younger ages, you could develop an entire curriculum from these printable pages!   For multiplication, for example, there are 14 different downloads, and most of the downloads are from 22 pages to over 100 pages!!   These aren't skimpy little one page printables – there is a LOT of material on this site!!
CHSH-Teach.com also offers curriculum broken down by months of the year, to help us study holidays and fun things like Dr. Seuss' birthday and National Train Day.
We spent the most time with the Bold Believers Around the World series.   We are missions-minded folks, and are actually at a YWAM conference this week!   (So fun to gather with 4000+ YWAM'ers from over 50 different nations to talk about eradicating Bible poverty around the world.  The goal is to have the audio Bible available in EVERY language in about 4 years.  Astounding!!!)
So, we loved that CHSH-Teach.com had a missionary series!   This series is produced by Voice of the Martyrs and talks about what life is like for believers in China, Afghanistan, Algeria & Tunisia, Burma, and India.
The Bold Believers in China book is over 50 pages long.  The kids learn facts about China and examine a map of the nation.  They also learn cultural things about China like food choices, how people get around, what the big cities are like, and the Great Wall.  They also do puzzles and even learn to write and speak a little Chinese!    Then, the book begins to share stories about Chinese believers and what life is like for them.  There is also a fun activity to go along with each story, like papermaking.   I think this is a pretty phenomenal series to use with our kids.
Thanks, CHSH-Teach.com for compiling such an amazing amount of material!  You can get your subscription and join the fun here –> CHSH-Teach.com
You can connect with CHSH-Teach.com on social media!
Social Media Links:
Facebook Group: https://www.facebook.com/groups/TheChristianHomeSchoolHub/
Facebook Page: https://www.facebook.com/ChristianHomeSchoolHubPage/
Twitter: https://twitter.com/TeachWithCHSH
Pinterest: https://www.pinterest.com/lyndaackert/chsh-teachcom-creations-by-lackert/
Google+ Group: https://plus.google.com/b/117967118184286217472/communities/108322787218266183941
Google Business Page: https://plus.google.com/u/0/b/117967118184286217472/117967118184286217472/posts
Linked-In: https://www.linkedin.com/in/lyndaackert
Tumblr: http://christianhomeschoolhub.tumblr.com/
Hashtags: #hsreviews #CHSH #homeschool #homeschoolresources