Review: Whistlefritz Spanish
Knowing a decent amount of Spanish has fared well for me in life. I wasn't anywhere near fluent, but I knew enough to translate in certain arenas.  I could translate well enough to get paid for it, and I loved that I could preach the gospel in Spanish!   It was always helpful around the barn too, where many of the employees spoke very little English.   I was therefore excited for the opportunity to review Whistlefritz's Educator's Spanish Collection with my kids and as part of the Homeschool Review Crew.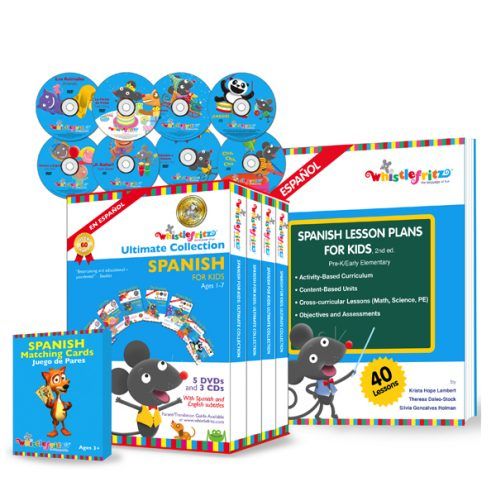 Our world is quickly becoming a smaller place.  We are connected through the Internet and airplane travel like never more.  With this connection of nations and cultures comes a need for our kids to be able to communicate and break down those cultural barriers.  In the US along, 38.3 million people speak Spanish!   As I write this post, I'm listening to the live stream from the International House of Prayer – their worship leader is singing in Spanish!  I love it. 🙂
Whistlefritz was created by a mom who was passionate to teach her kids Spanish.   Whistlefritz is designed around the concept of immersion, where kids learn a second language in much the same way that they learn their first – by hearing people speak it in complete sentences!
The Educator's Spanish Collection includes the lesson plan book, 5 videos on DVD, 3 music cds, and a matching cards game.
The videos and cds feature live, native-speaking adults and children.  I learned so much of my Spanish in the classroom, with a non-native speaker, and I have struggled to understand native speakers, especially when they talk fast!!   The programs are designed in complete sentences so kids can learn the cadence and flow of the language, and not just vocabulary words out of context.   Parents/teachers are urged to refrain from translating from English to Spanish for the kids, since that can actually impede the speed of learning.
My Sweetheart loves to watch the videos and asks for them again and again!   Literally.  One will finish and she'll say "Again, mommy!"
Whistlefritz offers a complete system by offering dvds and cds to model clear pronunciation, teach new vocabulary, and review older vocabulary, Spanish lesson plans to provide a straightforward structure for parents, and matching cards for games and fun.
The lesson plans are thankfully straightforward and easy to follow.    Each lesson starts with the lesson outline giving a description of the lesson, the goal, objective, vocabulary, materials, and time.  The activities give a focus so we know very specifically what to work on.   It also tells us exactly what to say, as a teacher, in both English and Spanish.  The activities are fun things like kids making their own puppets from lunch bags.  They use these to practice their speaking!   Other activities include making a dollhouse from included copies.  It's very hands-on, designed for Pre-K – Early Elementary.
We enjoyed Whistlefritz.  It's a great program for moms that want to do some hands-on Spanish activities and incorporate multimedia too!
Social Media Links: