Review: Memoria Press & First Form Latin!
Memoria Press has released their program First Form Latin Complete Set and offered the Homeschool Review Crew an opportunity to review it along with several other of their products including Prima Latina, Latina Christiana, Second, Third, and Fourth Form Latin, The Book of Trees, and Nature's Complete Order.   Memoria Press is good to us!!   Their materials are such high quality that I'm always excited to review them!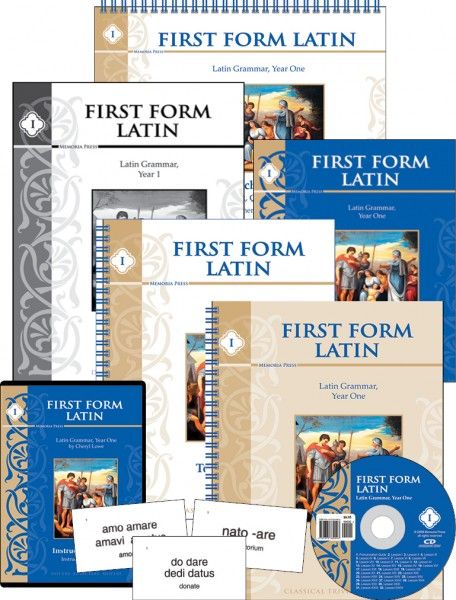 Latin is an essential part of a classical student's education, and Memoria Press has designed this First Form Latin set for students in grades 4-9.  Super D is on the younger end of the spectrum, having just completed 4th grade.  Younger students will naturally need more assistance from their mom teachers older students need.
Materials by Memoria Press are SO thorough, yet intentionally designed to be simple to use.  We were sent a pile of materials that included a Student Text, a Student Workbook, a Teacher's Manual, a Teacher Key, a Quizzes and Tests book, a pronunciation cd, Instructional DVD's, and flashcards for vocabulary, Latin sayings, and grammar forms.   Hehe, I love curriculum!!
The course is designed over a 5 day school week, but it's easy to adapt to 4.  There is a worksheet for each day, with 5 units spread over 34 lessons.   It's easily a full year's work for us to fully complete the program.    Memoria encourages homeschoolers to form a little class to work through this material together, and thus make the best use of the games, recitations, and quizzes.    A full week's schedule consists of a Lesson, workbook, oral drill, quiz or test, and an optional history resource like Lingua Angelica or Famous Men of Rome.
The focus of the First Form series is the Latin grammar and a small, usable vocabulary.  Translation and syntax are introduced but kept to a minimum.   In grades 3-6, kids are in the grammar stage of learning, and thus this First Form Latin focuses on memorization.   There is no need to have previous experience with Latin to teach this material, although it's always helpful!
The DVD's are 9 hours long and include 3 discs at about 15-20 minutes/lesson.  The quality of instruction is excellent!
The Teacher's Manual is very helpful and includes exactly what to do on each day, as well as an insert shot of the student lesson for the day.  I love it when curriculums do that; it makes things so much easier to have a picture of the student book inside the teacher's manual!
The Teacher's Key is spiral bound and well laid out, including, naturally, the answers to everything!
Cheryl Lowe has years of experience teaching Latin, and she makes things really clear!
We found that we recognized some of the material and vocabulary already from our Classical Conversations work.  For the parent wanting to go deeper in Latin, and/or take your kids on a thorough study, this set from Memoria Press is excellent!
Social Media Links: