I'm always on the lookout for movies that my husband calls "Sarah-friendly".   These movies contain little to no violence and have a good message.  Trust Fund, a new movie by Mapelle Films, fits that bill! We were sent a DVD copy to review.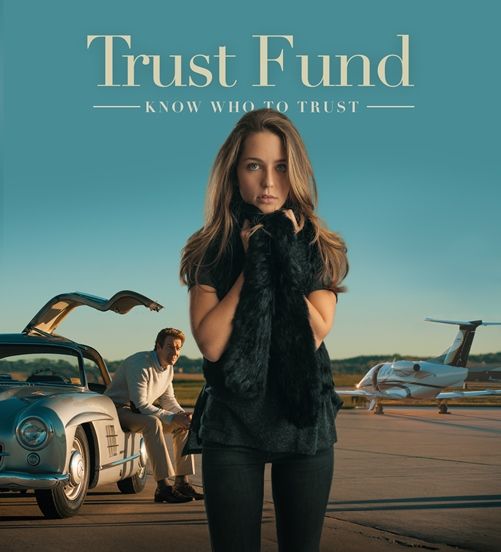 My first impression from this movie was that I really like the cinematography!   The creators of this film have an artistic eye and I feel that it's very well done!    The cinematographer is an early homeschooler who began producing films in his backyard at the age of 11.   You can read his story here –>
Isacc Alongi
.  I love hearing stories of now grown homeschoolers and how they are flourishing.  The extra time and space that he had to devote to his filmmaking as a child is producing great fruit as an adult!
Reese is a somewhat spoiled teenage girl who is coming-of-age.   The early moments of the film portray her as both self-focused and immature, yet with a kind heart that seeks to love others.   She has been working hard on a book and has been blessed to receive both a book contract and an advance.   She's living in denial though, believing that writing a first book is enough income to pay the rent on a high-rise apartment and support herself in the lifestyle to which she is accustomed.
I really like her father and can empathize with him in his parenting struggles.   He offers her a job in his company, and she begins to try to find her way through work life.   She discovers something her father has been (wisely) withholding from her, and as a result, quickly makes some very poor decisions that spiral into all kinds of trouble!   The redemption and grace she receives is a powerful message of forgiveness and hope.
The movie is a bit far-fetched and not a realistic storyline, in my opinion.  It is creative and imaginative though, and would be a fun movie to watch with a teenaged daughter.  My Super D, Sweetheart, and Little Man aren't old enough yet to follow along.
If you have a teenage daughter, Mapelle Films has released an book called Love Was Near to accompany the movie.   It's recommended for girls aged 12 and above so we didn't review the book. 🙂    This coming of age Prodigal Daughter story is well told and will prompt great discussions!
You can check out the trailer!
https://vimeo.com/148584001
Social Media Links: