Review: "If You Were Me And Lived In…" Kids' Books
Recently, we had the opportunity to review several books that are designed to bring history to life, through the eyes of a child.   Brought to you by Carole P. Roman and Awaywegomedia.com, we reviewed
* If You Were Me and Lived in…the Middle Ages (An Introduction to Civilizations Throughout Time) (Volume 6)
* If You Were Me and Lived in…Renaissance Italy (An Introduction to Civilizations Throughout Time) (Volume 2)
* If You Were Me and Lived in…Ancient China: The Han Dynasty
* If You Were Me and Lived in…Colonial America (An Introduction to Civilizations Throughout Time) (Volume 4)
Carole P. Roman has written 8 different books in this series, as well as others in related series, and they are all available on Amazon.   She desires to make history relatable and memorable to kids, and thus writes the stories as if the child is actually living in that era and region of the world.   The books are thorough and of varying length, ranging from 44 to 97 pages.   She addresses many different aspects of life and society, hoping to immerse the student in the historical setting.   Each book includes a section in the back where she gives brief bios of famous people of the era as well as a glossary of vocabulary words.
We began by reading If You Were Me and Lived in…the Middle Ages (An Introduction to Civilizations Throughout Time) (Volume 6).  Since we're studying Medieval History in CC this year, I was excited to have another way for them to go deeper in that material.   This is the longest book of the 4 we received, logging in at just under 100 pages.   The sentences are short and sometimes choppy.  She is obviously doing her best to write for a younger audience.   I love how detailed her descriptions are, especially of the medieval clothing.  She does her best to paint a word picture for the kids!   I do wish there had been a bit more editing – Super D was particularly bothered by little editing mistakes here and there in the book where several words were repeated, switched around, or missing.   I love Indie books overall, and a miss here or there on editing happens!   On the whole, we definitely learned a lot about the Middle Ages.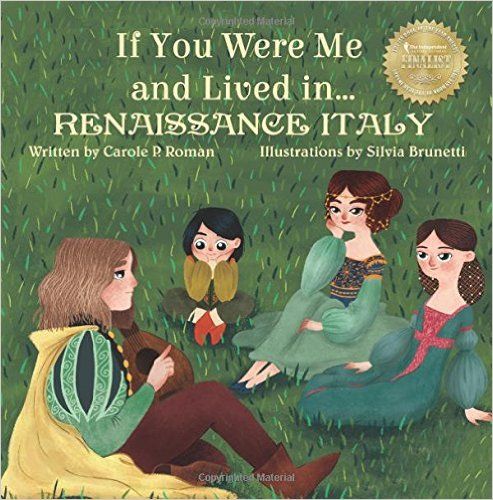 The second book we reviewed was called If You Were Me and Lived in…Renaissance Italy (An Introduction to Civilizations Throughout Time) (Volume 2).    It is around 50 pages and well-illustrated.  We especially liked the diagram of a typical Renaissance home!   The details in this book are wonderful and the editing is improved!    Carole P. Roman shares a glimpse into their lives, covering many different aspects including food and drink, their work, clothing, living arrangements, class divisions, parties, and more.  It's a very interesting, condensed history book!
We were also sent  If You Were Me and Lived in…Ancient China: The Han Dynasty and If You Were Me and Lived in…Colonial America (An Introduction to Civilizations Throughout Time) (Volume 4).  These books are also interesting and full of detail.  They're a great supplemental read to a study of Ancient China or Colonial America!
Carole P. Roman has a number of other series, including Captain No Beard, If You Were Me and Lived In…Cultures Around the World, and several short stories.  The Captain No Beard series received a Best of 2012 review from Kirkus Reviews, which speaks quite highly of them!
Social Media Links:
Facebook:  https://www.facebook.com/CarolePRomanAwardWinningAuthorAndBooks
Pinterest:  https://www.pinterest.com/caroleproman/
Good Reads:  https://www.goodreads.com/author/show/5854108.Carole_P_Roman
Twitter:  https://twitter.com/caroleproman
Hashtags: #hsreviews #childrenshistory #historystorybooks #culturalstudies