Review: Memoria Press First Form Greek
Learning Greek has actually been a bucket list item for me!   Swim with dolphins, learn Greek, get my naturopathic doctor degree.  I feel like a nerd lol.   Seriously though, I always eyed the Greek classes in college and wanted to take them.   They weren't on my degree track though, and I couldn't justify the tuition costs.   Memoria Press has released their program First Form Greek Complete Set, so I begged them to let me review it.     Now I'm glad I didn't take it in college!  For mere pennies in comparison to what I would have spent, I have an entire course that I can work through on my timeline.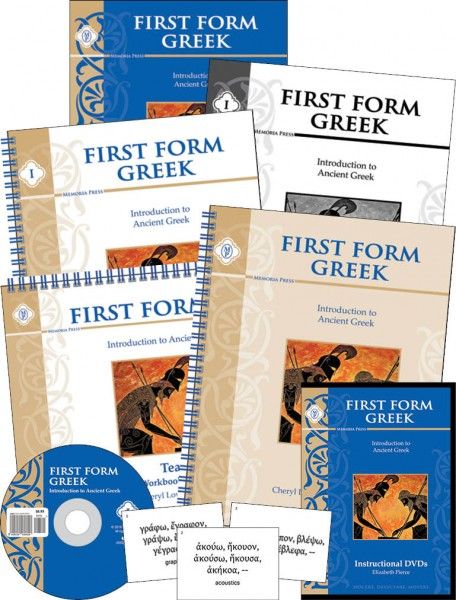 Their materials are SO thorough, yet intentionally designed to be simple to use.  We were sent a pile of materials that included a Student Text, a Student Workbook, a Teacher's Manual, a Teacher Key, a Quizzes and Tests book, a pronunciation cd, Instructional DVD's, and flashcards for vocabulary, Greek sayings, and grammar forms.
As this is an introductory course, students don't need any prior experience with Greek.  Some Latin knowledge is recommended, but not required.  I have memorized Latin declensions through our Classical Conversations Foundations work, so that was helpful background!   Memoria Press also has a First Form Latin Complete Set that could be used as a precursor.   They recommend that you spend a little extra time in Chapter 1 to learn the Greek alphabet if you don't have a strong Latin background.    Memoria Press also has an Greek alphabet set to help with this memorization process.  This particular course is designed for Grades 7 – 12.   My kiddos aren't yet old enough, so I happily nabbed this course for myself.  I'll share when they are a few years older. 🙂 🙂
The course is designed over a 5 day school week, but it's easy to adapt to 4.  There is a worksheet for each day, with 5 units spread over 26 lessons.   It's easily a full year's work for us to fully complete the program.    First Form Greek is focused on ancient Greek vocabulary and translations, and will prepare the student to study the Greek New Testament (yay!!) and classical Greek authors like Plato.
The DVD's are 8 hours long and include 5 discs at about 10-20 minutes/lesson.  The quality of instruction is excellent!  She makes things really clear!
The Teacher's Manual is very helpful and includes exactly what to do on each day, as well as an insert shot of the student lesson for the day.  I love it when curriculums do that; it makes things so much easier to have a picture of the student book inside the teacher's manual!
The Teacher's Key is spiral bound and well laid out, including, naturally, the answers to everything!
Each quiz has 5 different sections: Vocabulary to translate, Conjugations for singular and plural, grammar, translation, and extra credit.   There is a quiz for each lesson, and a test at the end of each unit.
I'm a fan of this set by Memoria Press and recommend it for anyone who would like to learn Greek!
Social Media Links:
Facebook: https://www.facebook.com/memoriapress/
Instagram:  https://www.instagram.com/memoriapress/
Twitter:  https://twitter.com/MemoriaPress  @MemoriaPress
Pinterest:  https://www.pinterest.com/memoriapress/