In our society, manhood seems to be in crisis.  Our 20's generation grew up in a large number of fatherless homes, and that trend is sadly continuing.   The value of the role of a father in a young man's life cannot be overstated.   Churches have long wrestled with how to address this gap and come alongside these young men.   This bible study is an answer to that struggle.   Not THE answer of course, but a piece of the puzzle.
In light of the immense need for father/son discipleship, Manhood Journey & City on a Hill Studio developed a Bible study for fathers and sons.   They kindly sent us the Manhood Journey Father's Starter Kit to review.
The Manhood Journey Father's Starter Kit includes a group discussion guide, a 1 on 1 discussion guide for fathers to use with their sons, a DVD of the introductory modules for all six units, 10 maprochures, and a free copy of Wise Guys Unlocking Hidden Wisdom from the Men Around You by the Manhood Journey cofounder, Kent Evans.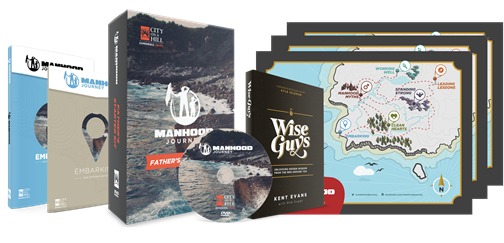 This bible study is designed to be used with fathers and sons, OR with men who are stepping into a mentorship role in a young man's life.   It can be used one on one, or with a small group.   Guides are included for both group and going-deeper individual meetings.    The guides are thorough, as well.   They give step-by-step curriculum for the group meetings, so a leader/father can pick up the guide, read through it, and lead the group.   It doesn't require a lot of advance preparation.
The first step on the journey is called, appropriately, Embarking.   The guide contains six weeks worth of material, and it's written in a fashion to appeal to guys. The first week in the group discussion guide includes topics like Meet and Greet, Vision and Purpose, Demonstration, Discussion, and Father/Son homework.   The second week launches straight into welcome, opening activities, discussion, and Father/Son homework.
The one on one discussion guide begins with a review of the group session, but that part can be skipped if it is being used individually.   This guide walks dads through an intentional discussion time with their son, and also includes six weeks.   It would still be helpful for the father/son team, if doing this study individually, to read through and answer some of the questions in the Group guide.  Then, they can use the one on one guide to go even deeper and make it more personal.
The Maprochures included give an overview of the entirety of the "Manhood Journey" study.   The other modules include:
* Clean Hearts
* Working Well
* Standing Strong
* Manhood Myths
* Leading Lessons
It appears that the modules can be completed in any order.   The printing is great quality, and the map is fun to look at.
Also included is the book, Wise Guys.   My husband enjoyed picking that up and reading it, and he's not a huge reader.   It's written by the co-founder of Trail Life, which Super D participates in.  That was a fun discovery!
If you're looking for a bible study to help strengthen father/son relationships, and help your son grow into a man, I recommend this one!
Social Media Links:
Manhood Journey
Facebook:  https://www.facebook.com/manhoodjourney
Twitter:  https://twitter.com/manhoodjourney  @manhoodjourney
City on a Hill
Facebook:  https://www.facebook.com/FollowCityOnAHill
Twitter: https://twitter.com/COAHStudio